Internet+ leads the era of smart manufacturing
The fifth the Internet Plus Expo, which is powered by CEBIT, a world leader in digital events, will take place at Tanzhou International Convention and Exhibition Center in Guangdong province's Foshan from October 16-19.
Themed around "Industrial Interconnection & Digital Intelligence", this expo will cover a total display area of 55,000 square meters, an increase of 10 percent from last year. About 800 well-known enterprises from home and abroad will present various emerging formats and application models in the era of industrial internet.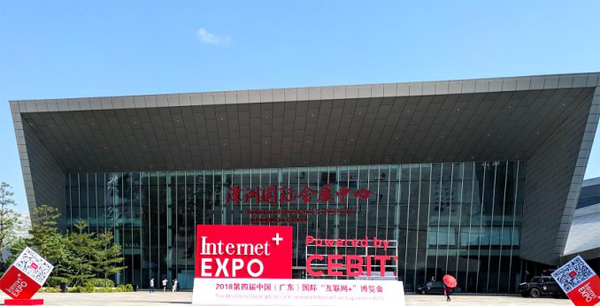 The fourth Internet Plus Expo kicks off at Tanzhou International Convention and Exhibition Center in Guangdong's Foshan on Oct 24, 2018. [Photo/internetplus-expo.com]
Currently, China's industry is expediting the implementation of the industrial internet. Through the integrated interconnection of people, machines, and things, the industrial internet vigorously promotes the digital, networked, and smart transformation of manufacturing. Foshan is making further efforts in manufacturing to lead the construction of the advanced equipment manufacturing industrial belt on the west bank of the Pearl River.
In this context, the expo will display technologies and solutions related to the industrial internet and smart manufacturing, with a view to driving industries to advance and transform their operations. Leading enterprises, such as Huawei, JD.COM, Midea, China Telecom, China Mobile, China Unicom, Xinchuang Tech, Kingdee, GOVMADE, Foshan UCA, idianchou.com, Sino-German Industrial City Alliance, and Huashu Robot, have confirmed their attendance to the expo.
As a product of the in-depth integration of new-generation information technology and manufacturing, the industrial internet has given rise to a brand-new industrial manufacturing and service system. The commercial application of 5G has accelerated the innovative development of the industrial internet. Enhanced bandwidth, massive data, and ultra-low latency make 5G a communication channel for the industrial internet. 5G has shepherded a new journey of the Internet of Everything (IoE), in-depth man-machine interaction, and smart transformation, spawning many new businesses, new formats, and new models, as well as releasing unlimited potential for the digital economy.