Cloudy outlook brings sunshine to online group
Avid followers of sky phenomena keep their feet on the ground as they look to the heavens
Clouds are often depicted in dramatic ways. Storm clouds gathering can be an ominous sign, white fluffy ones show that all is well with the world. It is not surprising then that a group of cloud spotters in China formed a WeChat group to share their images.
They send out alerts that a certain type of cloud has been seen or is expected at certain locations, allowing people nearby to grab the opportunity of taking a photo or recording it.
Ji Yun, 32, is a Beijing freelance cloud chaser and set up the online group in 2013.
In October that year, he received a message from a friend, saying there were rare cloud formations drifting toward southeastern Beijing. He then boarded a high-speed train to chase them.
"As soon as I got the information, I rushed out of my home. I took some pictures, but the clouds drifted away quickly. After guessing where they were likely to head, I took a train to Tianjin and finally managed to take several wonderful pictures in the Wuqing district," he said.
What he was chasing after were Asperitus clouds. These clouds are dark and suggest an approaching storm, but strangely they almost always dissipate without one.
They are particularly common in the Plains states of the United States, often during the morning or midday hours following thunderstorm activity.
"This is an extremely rare type of cloud. As far as I know, they have only been spotted in China a couple of times. So it is worthy of chasing and recording," Ji said.
Why clouds form in certain ways can also tell us a lot about the weather. This is vital for people who make their living at sea or farmers, he said.
The online group has more than 900 fans nationwide.
The group invented a game in which all the members were divided into two teams, south and north, based on their location.
If a member in one of the southern provinces sends a picture of clouds, the south team score and vice-versa.
The game sparks discussion and team members feel engaged with all areas of the country, Ji said.
"Quite a few times some members inadvertently shared a photo in our group which we realized was a particularly rare phenomenon. Other members would congratulate those who 'witnessed history' in the group," he said.
In 2014, a photographer in the group took a picture of a twin rainbow in the Guangxi Zhuang autonomous region and sent it. Ji put it on his website and offered an explanation that sparked an immediate response overseas.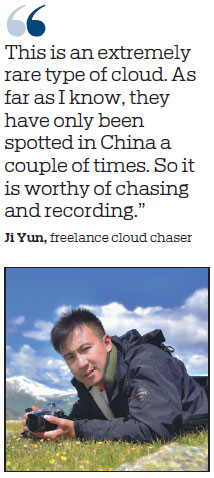 Alexandar Haussmann, a rainbow expert at the Technical University of Dresden, Germany, noticed it online and contacted the group via email. The expert said that this twin rainbow photo should be deemed one of the most valuable records of its kind.
Wei Xiaojun, a 24-year-old photographer in Beijing, joined this group in 2015. He has sent about 40 photos of clouds to the group.
"I always carry a small camera with me. If I look up and find something, I will take a snap. I don't have enough knowledge about what kind of cloud it is, so I would send it to the group and wait for professional analysis," he said.
Ji said that he hoped that the model of real-time cloud reporting should be promoted and refined to attract more people to join.
"People in all major cities across the country should gather to form a local live observation group. Anyone who discovers a new cloud can report its movement and let the people in the downstream of the cloud prepare to observe it. In that way, all kinds of celestial phenomena and events can be recorded comprehensively, scientifically and accurately," he said.
Ji knows what type of clouds may form over certain geographic locations.
For example, in the bitter cold of North China, it is possible to see ice halos. These are formed when light interacts with ice.
In southwestern area, with high humidity levels, rainbows are common while in the Xinjiang Uygur autonomous region and Qinghai province in Northwest China, some rare or strange celestial phenomena are more likely to appear due to the extreme nature and complexity of the climate.
Ji's cloud group is not alone. In 2005, Gavin Pretor-Pinney launched the Cloud Appreciation Society in Britain. This is a nonprofit association for cloud lovers. Its members are drawn from 120 countries.
They are all united, Gavin Pretor-Pinney said, in the belief that clouds are the most dynamic, evocative and poetic aspect of nature. And in a Ted speech in 2013, he pointed out that clouds can often bring a sense of happiness.
Zhang Chao, an editor of an astronomical science publication in Beijing, said clouds may look friendly and pretty, but their formation is due to real science that must be understood.
"Clouds often form in unexpected ways. I once spotted a horseshoe-shaped cloud. I stared at it and felt every moment was precious and amazing. The cloud changed fast, just in three or five seconds, into different shapes that you could never imagine. It was a joy to see this rare thing."
Just watching clouds float above people and change shapes allows them to feel poetic and appreciate the beauty of our world, Zhang said.
lihongyang@chinadaily.com.cn